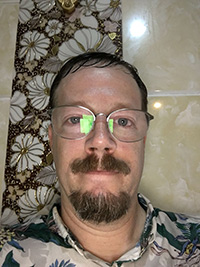 I am more concerned with professionalism and craftsmanship than flashiness and market power. This holds true for both my continuosly improving web development skills, as well as my mastery of Chinese. My server location (Hong Kong) provides fast page-load speeds for visitors to your site who are located internationally, as well as those within mainland China. This location also drastically reduces the bureaucracy involved in getting your site up and running.
You can call anytime but please send a follow up
email
as well to ensure we get in touch. Feel free to ask any questions about deadlines and capabilities (I can't conceive of any small or medium-sized business neeeding something I could not provide, however, for some projects you'd perhaps have to hire me full-time for a bit). Again, please do also send an email in addition to calling because when I do my coding I like to have the phone off. This way I can follow up with you if I've missed your call. If you anticipate databases with millions of records that won't be the slightest problem. All of the technologies I use scale extremely well. Just ask yourself: if PHP and MySQL are good enough for Wikipedia, aren't they good enough for my business? You bet they are.
I am a US citizen, born and raised in the US. I've been developing web applications for about 12 years. I'm also a Chinese translator/interpreter. Despite the web development industry being quite competitive, I've decided to start my own business doing web development. I made this decision because I like doing it. It's just that simple; I'd do it even if it didn't bring me money (although admittedly I'd likely get to do it much less if that we're the case!). I received my BA in Chinese (Mandarin) from the University of Washington in 1993, over 20 years ago. By 1997 I had become a state-certified Chinese interpreter and was reading newspapers in Chinese with no problems at all. I read developer books in Chinese; that is, I read college-level textbooks about software development written entirely in Chinese characters. I'm a Christian, and am interested in the development of church institutions in China. If you're a web designer or developer, you may also like to visit
My Youtube Channel
.
Please feel free to contact me anytime. However, please
DO send an email
to me to make certain that we make contact. You can easily send a quick email without opening your email client/program by doing so through my
contact page email form
. I normally check my email at least once each morning and will respond very promptly to any enquiries that I receive. I am very approachable, and due to the fact that I am building a new business, you can be sure your website or software development project will be a priority for me. If you succeed I will succeed!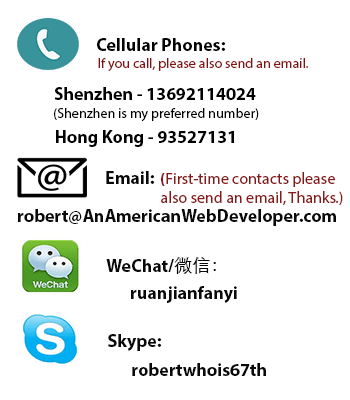 If you are located in any of Guangdong province's main cities I can meet with you in person: Guangzhou, Shenzhen, Hong Kong, Huizhou, Foshan, Zhuhai, Heyuan, Meizhou or even Macao. Guangzhou is about an hour and a half away from Shenzhen and I enjoy the city very much. There is a lot happening in the Guangzhou-Shenzhen-Hong Kong corridor and I don't consider it any skin off my nose to take a trip up to Guangzhou or down to Hong Kong to help you get your web presence going. If you're in Shanghai there is no reason I can't develop a solution for you: we can simply use skype, wechat etc..